The CRVS Digitisation Guidebook is designed to lead the user through a logical sequence of Activities to implement a comprehensive digitised CRVS system. Organised into 3 Phases (Preparation, Analysis and Design, Implementation), the Activities contain a set of descriptive steps, supplemented with supporting Toolbox assets.
A graphical representation of the Phases and Activities enables the user to navigate directly to a specific activity.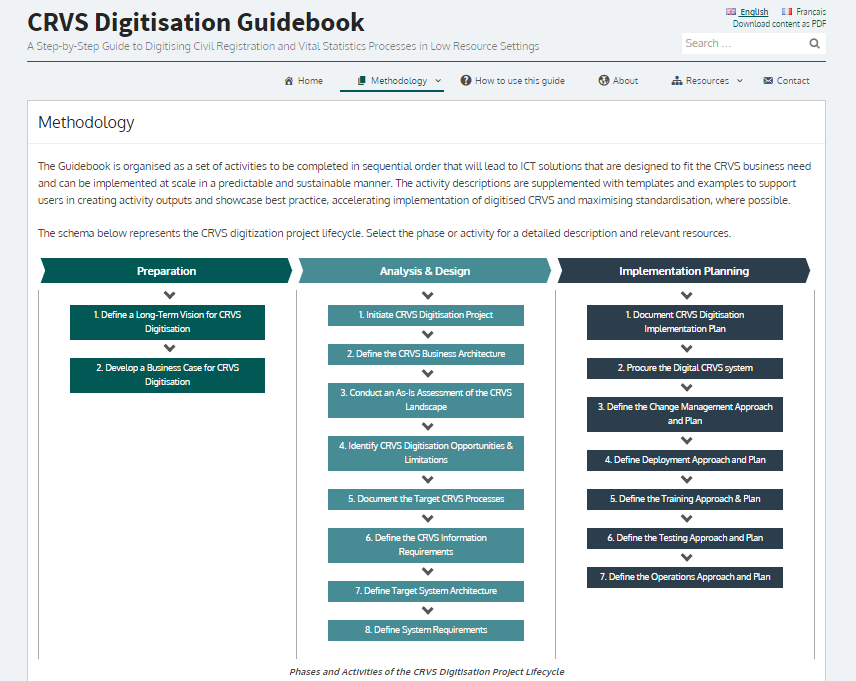 Alternatively you can follow a logical process by following the "next" button at the top and bottom of each page.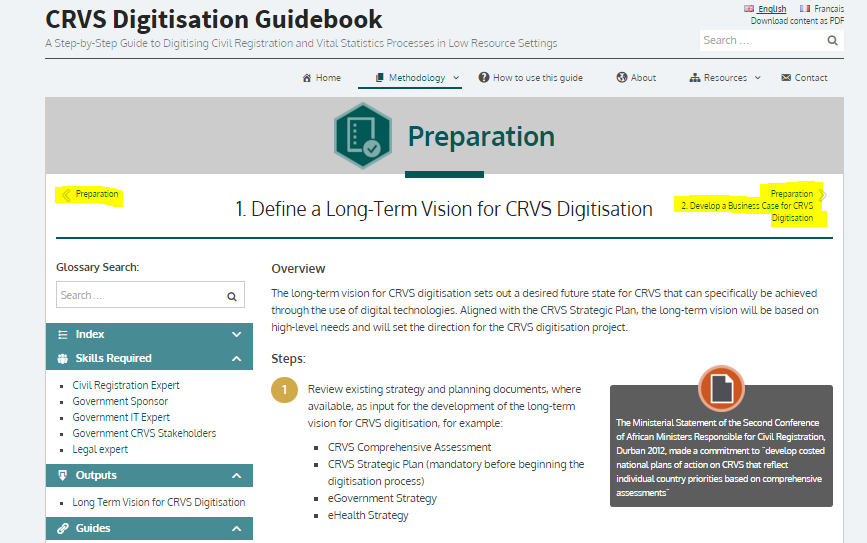 Text that is underlined is hyperlinked to an Asset in the Toolbox.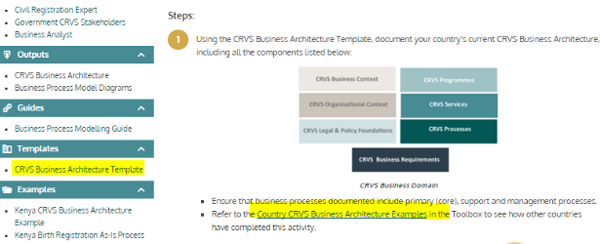 Selecting a specific activity box takes the user directly to a page with details of the activity. These include an overview of the activity, steps required to complete the activity, skills Required, guides, templates and examples.
Toolbox Assets are hyperlinked into the sidebar of the activity pages and can be used to identify and download assets directly.
The complete Toolbox and Glossary of Terms sections can be accessed from the Resources dropdown from the main menu.

Opening the Toolbox allows the user to navigate through the complete list of assets and the associated activities.
The Sidebar has the following Sections:
Index: displays a list of all the phases and activities hyperlinked to the relevant section in the methodology.
Skills Required: lists the skills required to complete the activity and links the user to a high-level job description of this role. These skills should be used by those responsible for delivering the digitisation project to effectively resource the activity.
Outputs: provides a list of material outputs that will be created if the activity is fully completed. NB. These outputs are often used in subsequent activities so you should check that these have been completed before moving on to the next activity.
Guides: additional support and guidance documentation for the activity e.g. how to document business process models effectively, CRVS architectural approaches. The Guides included provide deeper insight into some key activity areas and will support thorough completion of the activity.
Templates: a range of templates that can be used to guide the development of outputs of the activity. Click on the hyperlink and download a template to support your completion of the activity content.
Examples: a range of available examples of activity outputs that have been provided by the Guidebook's Country Expert group (and others). These examples bring to life real-world digitisation outputs to demonstrate what you might create and in order for you to learn from others doing the same thing.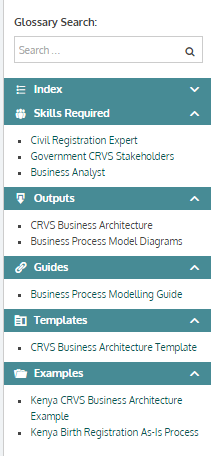 In each activity you will see dark grey boxes with different icons at the top. These boxes call out key tips, definitions or notes.
| | |
| --- | --- |
| | The notepad icon with text represents a definition box – explaining a term that is used in the content of the activity. |
| | The paper icon represents a note box – providing information important for the user to be aware of. |
| | The lightbulb icon represents a tip box – providing the user with useful advice and guidance on how to complete the actively effectively. |
The CRVS Digitisation Guidebook remains a living resource that will continue to evolve and expand over time. To request updates or the inclusion of additional assets, please contact the APAI-CRVS Secretariat via Contact